The estrogen-regulated anterior gradient 2 (AGR2) protein in breast cancer: a potential drug target and biomarker
Breast Cancer Research
2013
15:204
Abstract
Initially discovered as an estrogen-responsive gene in breast cancer cell lines, anterior gradient 2 (AGR2) is a developmentally regulated gene belonging to the protein disulfide isomerase (PDI) gene family. Developmentally, AGR2 is expressed in the mammary gland in an estrogen-dependent manner, and AGR2 knockout and overexpression mouse models indicate that the gene promotes lobuloalveolar development by stimulating cell proliferation. Although AGR2 overexpression alone seems insufficient for breast tumorigenesis in mice, several lines of investigations suggest that AGR2 promotes breast tumorigenesis. Overexpression of AGR2 in several breast cancer cell lines increases cell survival in clonogenic assays and cell proliferation, whereas AGR2 loss of function leads to decreased cell cycle progression and cell death. In addition, AGR2 was shown to promote metastasis of breast epithelial cells in an in vivo metastasis assay. As a PDI, AGR2 is thought to be involved in the unfolded protein response that alleviates endoplasmic reticulum stress. Since cancer has to overcome proteotoxic stress due to excess protein production, AGR2 may be one of many pro-survival factors recruited to assist in protein folding or degradation or both. When AGR2 is secreted, it plays a role in cellular adhesion and dissemination of metastatic tumor cells. In breast cancer, AGR2 expression is associated with estrogen receptor (ER)-positive tumors; its overexpression is a predictor of poor prognosis. The AGR2 gene is directly targeted by ER-alpha, which is preferentially bound in tumors with poor outcome. Whereas aromatase inhibitor therapy decreases AGR2 expression, tamoxifen acts as an agonist of AGR2 expression in ER-positive tumors, perhaps contributing to tamoxifen resistance. AGR2 is also overexpressed in a subset of ER-negative tumors. Furthermore, AGR2 expression is associated with the dissemination of metastatic breast cancer cells and can be used as a marker to identify circulating tumor cells and metastatic cells in sentinel lymph nodes. In conclusion, AGR2 is a promising drug target in breast cancer and may serve as a useful prognostic indicator as well as a marker of breast cancer metastasis.
Keywords
Breast Cancer
Estrogen Receptor
Tamoxifen
Endoplasmic Reticulum Stress
Fulvestrant
Introduction
The estrogen receptor (ER) is a key regulator of mammary gland development and breast carcinogenesis, regulating pro-proliferative and pro-survival genes in breast epithelial cells. The human anterior gradient 2 (AGR2), one of the many targets of ER, was first discovered as an overexpressed gene in ER-positive breast cancer cell lines [1, 2] and has since been shown to be overexpressed in breast cancers and many other adenocarcinomas, including colorectal, esophageal, lung, ovarian, pancreatic, and prostate carcinomas [3–10]. Its overexpression in ER-positive breast cancer is associated with poor prognosis, especially in tumors that escape anti-hormone therapies [11]. AGR2 acts by promoting cell proliferation, cell survival, and metastasis of breast cancer cells [12, 13]. As ER activation can generate a large influx of gene transcripts, subsequent translation creates stress on the endoplasmic reticulum that the tumor cell must overcome to survive. A member of the protein disulfide isomerase (PDI) family that localizes to the endoplasmic reticulum [14], AGR2 may assist in protein folding and endoplasmic reticulum-assisted degradation (ERAD) of proteins [15]. The ability of ER to activate the AGR2 gene may therefore allow the tumor to resist proteotoxic stress and avoid cell death. In addition, AGR2 is a secreted protein [13] and, as such, may promote breast cancer metastases by regulating the adhesion and dissemination of tumor cells. In this review, we discuss the effects of AGR2 expression in breast cancer cells, highlighting its role as a survival factor in response to proteotoxic stress, its function in mediating tumor metastasis, and the molecular pathways that it acts through to control cell proliferation. Targeted inhibition of AGR2 may be useful in breast cancer as it may induce cell death in response to proteotoxic stress, prevent tumor metastasis, and slow the rate of tumor growth.
AGR2 and related family members
The mammalian anterior gradient proteins, AGR1, AGR2, and AGR3, belong to a family of PDIs, which function in the endoplasmic reticulum to reduce, oxidize, or isomerize disulfide bonds [16]. In addition to having a role in protein folding, PDIs function as molecular chaperones and in the ERAD protein degradation pathway. Outside of the endoplasmic reticulum, PDIs have been described as secreted proteins that function at the cell surface and the extracellular matrix. The specific functions of the AGR2 and AGR3 family members as PDIs are poorly understood. Anterior gradient genes were originally discovered in Xenopus laevis and named for their expression patterns in the anterior region of the dorsal ectoderm during late gastrulation [17]. Xenopus anterior gradient-2 (XAG-2), a secreted cement gland-specific protein, plays a role in the specification of the dorsoanterior ectoderm to cement gland and forebrain fates. AGR2, the human homologue of XAG-2, was first identified as an upregulated gene in the ER-positive MCF-7 breast carcinoma cell line compared with the ER-negative MDA-MB-231 breast carcinoma cell line [1]. AGR2 was one of eight genes that correlated with ER expression and responded to estradiol treatment in MCF-7 cells, an observation that was validated in eight additional breast carcinoma cell lines and primary tumor samples [2]. The correlation between AGR2 expression and ER positivity of breast cancer cell lines and the ability of estradiol to induce its expression suggested the possibility that AGR2 mediates estrogenic actions in normal physiology and breast cancer.
AGR3 was discovered in a proteomics screen for proteins associated with the cell membrane of the ER-positive T-47D and MCF-7 breast carcinoma cell lines [18]. The human AGR2 and AGR3 genes map to chromosome band 7p21.3 and share 71% sequence identity [3, 19]. The two are transcribed from the same DNA strand and are separated by only 60 kb of sequence. Although the contiguity of AGR2 and AGR3 would suggest that they are co-regulated, the contrary is observed in several cases: in normal mammary gland development, mouse Agr2 is preferentially expressed in comparison with Agr3 during pregnancy, lactation, and involution [20], whereas mouse ovarian cancers express Agr3, and not Agr2, in ER-negative tumors [21]. In addition, uncoupled expression of AGR2 and AGR3 is observed in multiple prostate cancer cell lines, with preferential expression of AGR2 in most cell lines [22]. However, there are cases in which the two genes are co-expressed, such as MCF-7 cells after treatment with estradiol [23]. The mechanisms underlying differential expression of AGR2 and AGR3 are poorly understood and warrant further investigation.
AGR1 is more commonly known as endoplasmic reticulum protein (ERp) 18/19 because of its functional role as a PDI in the endoplasmic reticulum [24]. Homology analyses revealed high similarity between ERp18/19 and AGR2 and AGR3, providing the previously uncharacterized AGR2 and AGR3 proteins with possible functions as PDIs. Whereas AGR2 and AGR3 have both been linked to breast cancer, AGR1 has not been identified as a breast cancer gene of interest in any bioinformatics study to date. However, it is clear that the role of the AGR1 PDI in normal biological settings provides insights into the possible functions of AGR2 and AGR3 in both normal mammary gland morphogenesis and breast carcinogenesis.
The role of AGR2 in breast cancer
AGR2 mechanisms of action in breast cancer
Despite the thorough characterization of AGR2 expression in normal development and breast cancer and other adenocarcinomas, the function of AGR2 in these tissues remains poorly understood. However, given the functional domains characterized in the AGR2 protein and its localization to both the endoplasmic reticulum and the extracellular membrane, it is likely that AGR2 has a role in relieving endoplasmic reticulum stress, promoting the dissemination of metastatic tumor cells, and stimulating cell survival and proliferation (Figure
3
).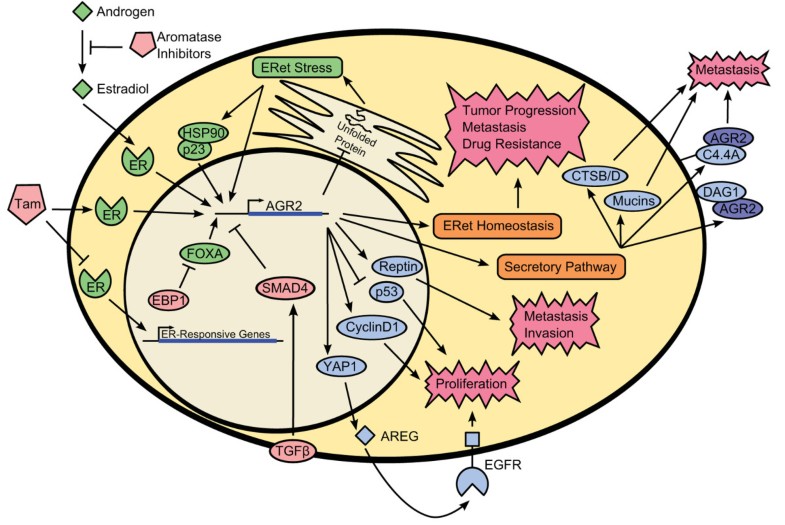 AGR2 as a reliever of endoplasmic reticulum stress in breast cancer
Cancer cells must adapt to survive proteotoxic stress created from imbalances in transcriptional output that result in high volumes of translation [46]. High protein translation rates lead to the sequestration of unfolded protein in the endoplasmic reticulum, exerting a burden on the protein-folding and degradation machinery that ultimately creates a toxic cellular environment [47]. This imbalance is counteracted by recruiting protein-folding or proteolytic degradation factors (or both) to relieve this stress, and one example is the chaperone HSP90 that participates in protein folding; HSP90 is expressed in tumor cells in response to excess unfolded protein [48]. Notably, the HSP90 co-chaperone p23 has been reported to induce expression of AGR2 and promote tumor progression, metastases, and drug resistance in breast cancer [49]. Thus, AGR2 may be recruited to the endoplasmic reticulum to assist in the protein-folding machinery to alleviate proteotoxic stress.
As a member of the PDI family, AGR2 aids protein folding and assembly by catalyzing the formation, reduction, and isomerization of disulfide bonds, thereby stabilizing intermediate conformations during protein maturation in the endoplasmic reticulum [15, 50]. Its expression, which can be controlled by the unfolded protein response, is involved in the maintenance of endoplasmic reticulum homeostasis by acting as a checkpoint in the endoplasmic reticulum quality control system and by redirecting misfolded proteins to the ERAD machinery [14, 15]. AGR2 contains a putative endoplasmic reticulum retention motif and has been demonstrated to indirectly associate with endoplasmic reticulum membrane-bound ribosomes via nascent protein chains, presumably acting through a CXXS thioredoxin-like domain motif that may assist in disulfide bond formation and isomerization. Although thioredoxin activity of AGR2 has yet to be demonstrated, it has been shown to enhance endoplasmic reticulum folding capacity in cancer cells, allowing them to cope with acute endoplasmic reticulum stress [15]. It has also been shown to be important for the homeostasis of intestinal cells by relieving endoplasmic reticulum stress [51]. AGR2 likely plays a similar role in normal mammary development as it is most highly expressed during late pregnancy and lactation [20], a period during which high volumes of milk protein are produced in the secretory alveolar buds that may benefit from the assistance of additional protein-folding and secretory factors such as AGR2 to cope with the increased protein load. In addition, milk protein expression at the mRNA level is downregulated in a mammary-specific Agr2 knockout mouse model and upregulated in a mammary-specific Agr2 overexpression mouse model [20], suggesting that AGR2 may play a role as a gatekeeper at both the protein and mRNA level to regulate the total protein load a cell can withstand without entering proteotoxic-induced cell death pathways. Tumor cells may overexpress AGR2 to promote cell survival by allowing the cell to withstand excess protein production associated with transformed cells. Major histocompatibility complex-1 (MHC-1) molecules, important for tumor surveil lance, are potential targets of AGR2 as other PDIs have been shown to play a role in their folding and antigen loading [52, 53]. In this respect, it is of interest that AGR2 has been used as an immunotherapy target in experimental colorectal cancer [54].
A proposed method of general cancer treatment is to induce proteotoxic stress through the inhibition of protein-folding and protein degradation machinery. Targeted inhibition of AGR2, or any other protein involved in either the protein-folding or degradation pathways, would sensitize the tumor cell to proteotoxic stress and suppress tumorigenesis. The anti-cancer drug geldanamycin induces proteotoxic stress by inhibiting HSP90 through its required ATPase domain and could possibly inhibit the expression of AGR2 as it has been shown to be a downstream target of the HSP90 co-chaperone p23 [49]. Thus, the use of geldanamycin or the development of other proteotoxic stress-inducing anticancer drugs may be useful in a combinatorial therapy with anti-estrogens to treat ER-positive tumors that overexpress AGR2.
Mechanistic roles of AGR2 in promoting breast cancer metastasis
The AGR2 protein contains a canonical cleavable N-terminal signal peptide targeting it to the secretory pathway and has been biochemically demonstrated to be localized to secretory endosome-like organelles and at the extracellular surface [18, 55]. Several secreted proteins, including the metastasis-associated GPI-anchored C4.4A protein and the extracellular domain of alpha-dystroglycan (DAG-1) [3, 51, 56], have been found in in vitro experiments to directly interact with AGR2, suggesting potential mechanisms for AGR2 in promoting tumor meta stasis [13] through the regulation of receptor adhesion and interaction with extracellular matrix. Although these functions have not been validated at the molecular level, they are supported by work on other cancers in which AGR2, acting as a cell surface antigen, is involved in the dissemination of pancreatic tumor cells through the activation of cathepsins B and D [55]. Together, these data suggest that, in addition to being active within the endoplasmic reticulum, AGR2 is a secreted protein that interacts with the cell surface to modulate adhesion and promote dissemination of tumor cells.
AGR2 may also promote the production of mucins (MUCs), a family of secreted and transmembrane proteins that provide a protective mucous barrier to epithelial cells and, when overexpressed in breast cancer, participate in cell signaling to promote proliferation, invasion, and metastasis [57, 58]. MUC1, overexpressed in most breast cancers, is an ER-responsive gene [59] that also interacts with ER to stabilize the protein and enhance binding to DNA [60]. AGR2 has been demonstrated to be an essential regulator of intestinal MUC2 [51, 56], the airway epithelial MUC5AC and MUC5B [61], and pancreatic MUC1 production important for tumor initiation and progression [14]. Although studies on the role of AGR2 in promoting MUC expression are lacking, it is plausible that AGR2 could promote breast cancer metastasis through the regulation of MUCs.
Further evidence that AGR2 promotes the dissemination of tumor cells lies within the nucleus. At the transcriptional level, ErbB3-binding protein 1 (EBP1) suppresses the invasive ability of prostate cancer cells by inhibiting FOXA1- and FOXA2-mediated expression of AGR2 and thereby decreasing the metastatic behavior of these cells [62]. At the protein level, AGR2 binds in the nucleus to Reptin [63], which has been reported to modulate the invasive activity of cancer cells with metastatic potential [64]. As a member of the highly conserved RuvBl1/2 superfamily, Reptin contains two ATP-binding motifs, and loss or gain of ATP binding at these sites results in altered AGR2-binding properties. AGR2 uses a divergent peptide substrate-binding loop to bind to Reptin, and this interaction site could be a target for inhibiting the AGR2-Reptin complex, which would be highly relevant as Reptin can form protein-protein interactions with many proteins implicated in cancer, including Myc, Tip60, APPL1, Pontin, and telomerase holoenzyme complexes [65–68]. Therefore, the validation of Reptin as an AGR2-binding protein gives rise to a potentially novel signaling complex involved in pro-metastatic cancer development [63].
AGR2 as a regulator of cell proliferation
Several pieces of evidence suggest that AGR2 is a regulator of cell proliferation, although the molecular mechanisms by which it acts on cell proliferation are poorly understood. In the context of normal mammary gland morphogenesis, deletion of AGR2 in the mouse mammary gland leads to reduced lobuloalveolar development during late stages of pregnancy, whereas forced AGR2 expression leads to precocious lobuloalveolar development [20]. Functionally, AGR2 was demonstrated to regulate cell proliferation in these models, as the Agr2- null and Agr2-overexpressing mice exhibited reduced and increased cell proliferation, respectively. In addition, transient AGR2 knockdown in MCF-7 cells significantly reduced the number of estradiol-induced proliferating cells, implicating AGR2 as an estrogen-responsive regulator of proliferation in breast cancer cells. Understanding the connection between ER-mediated AGR2 expression and normal cell proliferation could give novel insights into the effects of AGR2 overexpression and subsequent cell proliferation in ER-positive breast cancer.
Recent work suggests that AGR2 is incorporated in several pathways that promote tumor cell growth and survival. In lung and esophageal adenocarcinoma cell lines, AGR2 induces the expression of the epidermal growth factor receptor (EGFR) ligand amphiregulin (AREG) via the Hippo signaling pathway co-activator YAP1 and subsequently stimulates EGFR signaling and proliferation [69]. In addition, AGR2 promotes cell cycle progression and cell survival in ER-positive breast cancer cell lines via multiple cancer signaling pathways, mainly ER, cyclin D1, pSrc, c-Myc, and survivin [12]. Furthermore, Aryl hydrocarbon receptor (AhR) signaling activated by genotoxicants induces the expression of AGR2, ultimately leading to tumor progression by inhibiting DNA-damage response through p53 activity [70]. In Barrett's esophagus, AGR2 is overexpressed and was demonstrated to repress p53 activity by inhibiting phosphorylation of the protein in response to DNA damage, thereby promoting cell survival [71]. As such, therapeutically targeting the AGR2 pathway may prove to be beneficial to attenuate cell proliferation and induce p53-dependent apoptosis.
Further evidence that AGR2 participates in cell proliferation is provided by its targeted regulation by transforming growth factor-beta (TGF-β) signaling, which governs multiple aspects of cell behavior, including proliferation, apoptosis, differentiation, and migration. In normal epithelial cells and early-stage breast carcinogenesis, TGF-β acts as an inhibitor to cell proliferation; however, in advanced-stage tumors, it promotes cell survival, motility, and invasiveness [72]. In pancreatic ductal adenocarcinoma, AGR2 gene expression is suppressed by TGF-β in a SMAD4-dependent manner [14]. Mutations to SMAD4 lead to the over expression of AGR2 and consequently tumor progression. Thus, AGR2 could be a contributor to the TGF-β switch from cytostatic effects to promotion of malignancy. Collectively, these data provide strong evidence for AGR2 regulation of cell proliferation in cancer through multiple signaling pathways.
Conclusions
AGR2 plays an important role in the development and progression of breast cancer and several other adenocarcinomas. Its expression, stimulated by ER signaling and endoplasmic reticulum stress, correlates with poor outcome in patients with breast cancer. It acts by promoting tumor metastasis, cell survival, cell proliferation, and resistance to anti-hormone therapies. Mechanistically, AGR2 assists in protein folding to maintain endoplasmic reticulum homeostasis, interacts with the extracellular matrix through its location on the cell surface, and is thought to promote cell proliferation through several signaling pathways. Further investigation into these mechanistic functions is necessary to elucidate the cellular networks through which AGR2 regulates tumor progression and metastasis. The recent generation of AGR2 inducible knockout and overexpression mouse models provides opportunities to study the mechanisms of AGR2 in breast cancer and other adenocarcinomas [20]. Many questions regarding the functional role of AGR2 in normal mammary gland development and breast cancer remain, such as whether AGR2 is a key mediator of ER-mediated cell proliferation. The mechanism for heterogeneous AGR2 expression in ER-positive breast cancer, in addition to how tamoxifen acts as an agonist to AGR2 expression, needs to be explored. Furthermore, there is a need to determine how important PDI function is for the biological effects of AGR2 in the mammary gland and breast cancer, and if AGR2 functions primarily as a PDI, its key enzymatic targets need to be defined. If AGR2 is a key survival factor, allowing ER-positive breast cancer cells to overcome endoplasmic reticulum stress, it may become an effective therapeutic target in breast cancer. Further studies into the development of drugs targeting AGR2 and the pathways that it mediates may lead to useful treatment options for patients with difficult-to-treat tamoxifen-resistant and metastatic tumors. A therapy directly targeting AGR2 would also prove beneficial to the treatment of the many other adenocarcinomas that are dependent on the function of AGR2. However, it would be necessary to determine the relevance of AGR3 in these tumors, as it may be able to compensate for the loss of AGR2. Future drugs may have to target both AGR2 and AGR3 to be effective. In addition to being a treatment target, AGR2 is a marker of poor prognosis and can be used to identify CTCs and breast cancer metastasis.
Abbreviations
AGR2:

anterior gradient 2
ChIP:

chromatin immunoprecipitation
CTC:

circulating tumor cell
EGFR:

epidermal growth factor receptor
ER:

estrogen receptor
ERP:

endoplasmic reticulum protein
MUC:

mucin
PDI:

protein disulfide isomerase
TGF-β:

transforming growth factor-beta.
Declarations
Acknowledgements
This work was supported by grants from the National Institutes of Health (NIH) and the Irving Weinstein Foundation (to BA) and by the NIH Biomedical Informatics Training Grant T15LM0744 from the National Library of Medicine (to MLS).
Authors' Affiliations
(1)
Departments of Medicine and Biological Chemistry, University of California, Irvine, USA
(2)
Departments of Medicine and Genetic Medicine, Weill Cornell Medical College, New York, USA
Copyright
© BioMed Central Ltd 2013