Future possibilities in the prevention of breast cancer: Intervention strategies in BRCA1 and BRCA2 mutation carriers
Breast Cancer Research
2000
2:283
Received: 20 April 2000
Accepted: 2 May 2000
Published: 1 August 2000
Abstract
The development of intervention strategies for carriers of mutations in the BRCA1 and BRCA2 genes has several considerations. The first are primary prevention and secondary prevention in unaffected carriers using medical/surgical or lifestyle strategies to prevent cancer development, or screening methods to detect cancers at an earlier stage. The options available are determined by the magnitude and age at onset, risk profile of cancer in carriers (the penetrance function of the gene) and the different cancer sites involved. The management of affected individuals who are BRCA1 and BRCA2 mutation carriers may be altered by their carrier status, because the tumour histology, efficacy of treatment and risk of subsequent cancer development is determined by the BRCA1 and BRCA2 germline status. Carriers of BRCA1 and BRCA2 mutations are relatively rare, so the strategies for management should be determined by international multicentre studies.
Keywords
BRCA1
BRCA2
interventions
management
mutation carriers
Introduction
About 5-10% of breast and ovarian cancers occur as a result of highly penetrant germline mutations in cancer predisposing genes [1,2]. Half of these are due to mutations in BRCA1 or BRCA2 [3]. BRCA1 on chromosome 17q encodes a protein of 1863 amino acids [4*] and BRCA2 on 13q is about twice the size of BRCA1 [5*]. Although deleterious mutations in both genes predispose to earlier onset and an increased risk for female breast cancer, the risk of cancers at other sites and the risk profile differs for the two genes.
BRCA1 and BRCA2genes and cancer risks
Collaborative studies by the Breast Cancer Linkage Consortium (BCLC) have combined data from numerous families with germline mutations in
BRCA1
and
BRCA2
worldwide to determine penetrance estimates and risks for other cancers in
BRCA1
and
BRCA2
mutation carriers. These have shown that both genes confer an increased risk for female breast cancer of 80-85% by the age of 80 years [
6
,
7
**], although the penetrance curve for
BRCA1
starts to rise slightly earlier than that for
BRCA2
(Figs
1
and
2
). Both genes confer an increased risk for ovarian cancer, but the lifetime risks are higher for
BRCA1
(60% by age 80 years) than for
BRCA2
(27% by age 80 years; the population risk is just under 1%), and the penetrance curve also starts to rise earlier (late 30s) for
BRCA1
than for
BRCA2
(mid 40s; Figs
1
and
2
) [
7
**].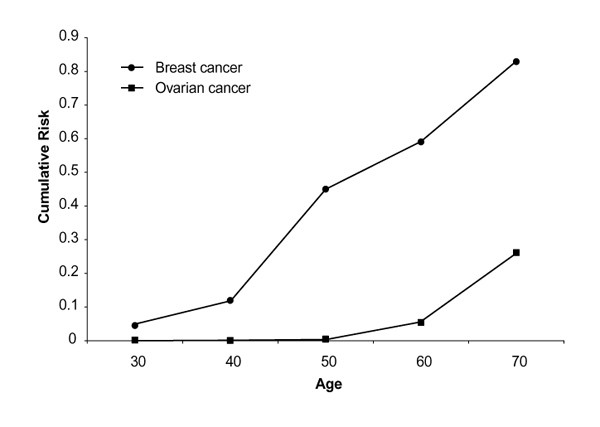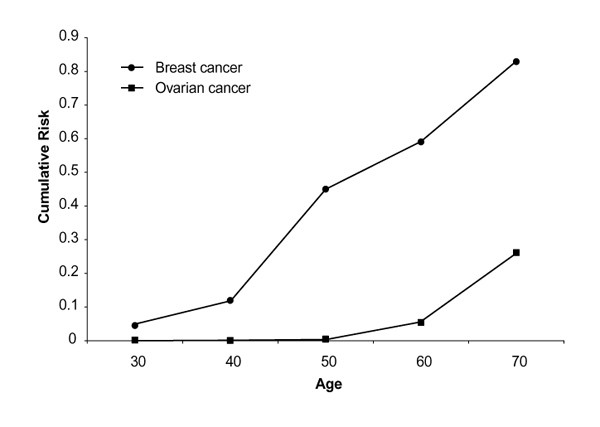 It is now clear that both genes confer an increased risk for prostate cancer, which is threefold for BRCA1 mutations [8*] and threefold to sevenfold for BRCA2 mutations [9,10], equating to an absolute risk of 6-14% by age 74 years; the population risk by this age is 2%. Mutations in BRCA1 are also thought to increase the risk of colon cancer to about 6% by age 70 years [8*], but carriers of mutations in BRCA2 do not appear to be predisposed to colon cancer.
A recent analysis of the risk of other cancers in BRCA2 carriers [10] reported a significantly increased risk for cancer of the prostate, stomach, pancreas, male breast, head and neck, ocular melanoma, cutaneous melanoma and fallopian tube, and cancer of the gallbladder and bile duct. Because many of these latter cancers are rare in the general population, the absolute risk is still low in BRCA2 carriers, and targeted screening at these sites, with the exception of prostate cancer, is not warranted.
The ethnic origin of the BRCA1 or BRCA2 carrier is important in refining these penetrance estimates. Studies in Ashkenazi Jews and the Icelandic population have reported lower lifetime penetrance estimates for breast cancer of 50-60% in the Ashkenazim [11] and 37% in the Icelandic population [12]. The risks of ovarian cancer are also lower in the Ashkenazim [11] than in the overall BCLC estimates.
Some researchers have reported a genotype-phenotype correlation of mutation position and breast/ovarian cancer risk [13], with mutations at the 5' end of BRCA1 and the central part of BRCA2 conferring a higher risk for ovarian cancer. What is unclear is whether this represents a higher risk for ovarian cancer per se or a relatively lower risk for breast cancer, and further studies within the BCLC dataset are ongoing.
Table
1
summarizes the risks for cancers in
BRCA1
and
BRCA2
mutation carriers [
14
].
Table 1
Lifetime (by age 80 years) cancer risks (%) in BRCA1/BRCA2 mutation carriers
Cancer type

Gene

Female breast

Ovarian

Male breast

Colon

Prostate*

BRCA1

80-85

60

?0

6

6

BRCA2

80-85

27

5

?0

6-14
Table 2
Threshold for probability of BRCA1/BRCA2 mutation
| Chance that a mutation is present* | Clinical criteria |
| --- | --- |
| <10% | All single cases of breast or ovarian cancer |
| 10% | Single breast cancer cases aged <35 years |
| >10-≤ 30% | Two breast cancer cases aged <50 years |
| | One breast cancer case aged <40 years in an |
| | Ashkenazi jew |
| ≤ 50% | Three breast cancer cases aged <50 years |
| | Four to five breast cancer cases, no ovarian cancer |
| | One breast and ovarian cancer case |
| >50% | More than one breast and ovarian cancer case |
| | At least four cases of female/male breast cancer |
| | More than six female breast cancer cases |
Detection of BRCA1 and BRCA2carriers
Over 200 distinct mutations in BRCA1 and BRCA2 have been described, and are listed in a database on the Inter-net [15,16,17]. These mutations are widely scattered across both genes. Most mutations truncate the protein product, but a significant proportion (34% of BRCA1 and 38% of BRCA2 mutations [17]) are missense mutations that alter one amino acid, but do not truncate the protein and are of uncertain significance (so-called variants of uncertain significance). At present, the cancer risks from such variants are uncertain and most cancer geneticists would not offer predictive genetic testing for such variants. It is likely that some, but not all will transpire to be rare polymorphisms (normal variants).
Because many different mutations have been described in different families (apart from founder mutations in certain populations such as the Ashkenazim and Icelanders[18,19,20,21,22*,23]), when an individual wishes to know their BRCA1 and BRCA2 carrier status, the mutation present in the familial cancer cluster is first determined by mutation screening of blood DNA from an affected family member (diagnostic testing) and a predictive genetic test is then offered to the unaffected family member who is seeking testing when the mutation is identified. The predictive test only ascertains whether the unaffected relative has that specific mutation. It is recommended that predictive genetic testing is preceded by full counselling of at least two sessions, interspersed with a minimum 1-month 'cooling off' period, similar to the genetic testing protocol for Huntington's disease [24]. At present, the optimal method of counselling for both affected and unaffected members of the family is unknown; affected members who give a blood sample to determine the mutation often receive less counselling than the unaffected individual. One may postulate that they may need more support, because they have a cancer diagnosis that they then learn has a genetic basis and this may have been passed on to future generations. The counselling requirements of affected persons need to be studied. The chance of a mutation being present in BRCA1 or BRCA2 in certain clusters is shown in Table 2.
Management of unaffected BRCA1 and BRCA2mutation carriers
There are currently several approaches to the management of men and women who are carriers of BRCA1 and BRCA2 mutations. The options available depend on whether the individual is already affected or is unaffected with cancer. Broadly, for an unaffected carrier, these options are as follows: early detection through screening programmes; changes in lifestyle; chemoprevention; and prophylactic surgery.
Management of affected BRCA1 and BRCA2mutation carriers
The following issues have to be considered in the management of a BRCA1 and BRCA2 mutation carrier who is affected with cancer: is the tumour pathology any different and does this impact upon management of the tumour?; is the survival from the cancer any different?; issues surrounding radiosensitivity or chemosensitivity; screening for second primary cancers; and prophylactic surgery.
Tumour pathology, and impact on management and survival
Breast cancer in BRCA1 mutation carriers tends to be of higher grade and to have a higher proportion of atypical medullary cancer and a lower proportion of carcinoma in situ [55]. BRCA2 has a lower rate of tubule formation, which is a bad prognostic feature [35*]. Mutiple regression of the pathological features of the breast cancers in BRCA1 and BRCA2 mutation carriers shows that the main pathological predictor of BRCA1 is mitotic count, lymphocytic infiltration and continuous pushing margins, but not the medullary phenotype per se. This would predict that the survival from breast cancer in BRCA1 carriers would be worse, but studies of survival from breast cancer in BRCA1 carriers show conflicting results. Thirty-one studies related to survival from breast cancer and familial factors were reported between 1996 and 1999; these were summarized in a review by Chappuis et al [56**]. These were divided into family history studies, linkage studies and mutation-based studies. Of the family history studies (18 studies in total), four showed a better survival in individuals with a family history than in those without, two showed worse survival and the rest showed no difference. In the linkage studies (three studies in total), two families linked to BRCA1 had a better survival and one linked to BRCA2 had a worse survival relative to the general population. Finally, in the mutation-based studies (10 studies in total), eight showed no difference and two showed a worse outcome in mutation carriers relative to those in the general population.
No study conclusively proves that survival is improved in BRCA1 carriers. The problem with these studies is that there is inherent bias because most mutation detection has to be performed on DNA from blood, and the woman with breast cancer therefore have to be alive to be tested. This can partly be overcome in two ways; the first is to ignore the proband that was tested in the survival analysis. When this was done in the study by Verhoog et al [57], the survival changed from no difference to a worse survival in BRCA1 carriers, although this was not statistically significantly different. The second method is to take stored breast cancer tumour material from all patients and test for BRCA1/BRCA2 mutations. This is currently only feasible in a population such as the Jewish population in which the entire gene does not have to be screened for mutations, because they have three common founder mutations in BRCA1/BRCA2; such studies by Foulkes et al [58] and Lee et al [59] in Jewish women showed no difference in survival. Only the studies in Jewish women and another study by Verhoog et al [60] have studied survival in women with breast cancer due to BRCA2 mutations. These suggest that the survival from breast cancer in BRCA2 carriers is the same as in the general population. Such tumours tend to be oestrogen receptor positive; this feature is a good prognostic factor in sporadic patients.
If BRCA1-associated breast cancer has a worse prognosis, it may be important to offer radical therapy even to those with very early tumours. For example, this may be a group in which even very small (<1cm) grade 3 tumours should be treated with adjuvant chemotherapy, an area in which at present there is controversy about the role of adjuvant chemotherapy [61].
Robson et al [62] have shown that women with founder BRCA1/BRCA2 Jewish mutations are at increased risk for ipsilateral breast cancer-related events after breast conservation, although this was not statistically significant. There is a statistically significant increased contralateral breast cancer risk (relative risk 3.50, 95% confidence interval 1.78-8.74; P =0.001). Oncologists are considering the appropriateness of conservative management in view of such results. As yet, the data are not strong enough to prove bilateral mastectomy as the management of choice, but studies of follow up of carriers such as those being conducted by Easton, Goldgar and Narod, within the BCLC, will help to answer this question.
There are data that suggest that survival is worse in ovarian cancer that occurs in familial cases with or without an association with BRCA1/BRCA2 mutations [63,64,65,66,67].
Issues surrounding radiosensitivity or chemosensitivity
It is not yet known whether tumours in BRCA1 or BRCA2 mutation carriers have a different sensitivity to DNA damaging agents. Mice that are brca1 or brca2 null have increased radiosensitivity and chemosensitivity [68,69,70], but human BRCA1 heterozygote fibroblasts do not seem, on preliminary data, to have an increased radiosensitivity [32]. It should, however, be emphasized that the human data are based on very small numbers and are for high dose rate irradiation of fibroblasts only. This does not provide data on BRCA2 or low dose rate irradiation.
Screening for second primary cancers and prophylactic surgery
After cancer development in a BRCA1 or BRCA2 mutation carrier, they are at risk for second primary cancers. The risk for development of a second primary breast cancer after the first breast cancer in women is 64% and 56% lifetime in BRCA1 and BRCA2 mutation carriers, respectively [7**]; the balance of risk of cancer recurrence from the first primary and risk of a second cancer therefore needs to be considered in the management of the individual carrier with cancer. Prophylactic surgery for the risk of certain second cancers can also be used to help with treatment of the first primary cancer; it has been shown that oophorectomy improves survival from breast cancer in large meta-analyses [71]. Such surgery can therefore be used as part of the treatment of the first cancer to improve survival, and reduce risk of a subsequent new cancer.
Conclusion
The cancer risk profile of BRCA1 and BRCA2 mutation carriers is becoming clearer, although uncertainties still exist regarding the differences between ethnic groups, the extent of genotype-phenotype interactions, the influence of environment on phenotypic expression and the effect of genotype on outcome after cancer treatment. The relative rarity of BRCA1 and BRCA2 carriers means that the study of these questions will necessarily be in large multicentre, international trials. The discovery of other breast cancer predisposing genes that may be more prevalent and of lower penetrance will result in the development of tailored treatment and prevention strategies for oncology patients according to their cancer-predisposing genetic profile.
Authors' Affiliations
(1)
Clinical Senior Lecturer and Honorary Consultant in Cancer Genetics and Clinical Oncology, Institute of Cancer Research and Royal Marsden NHS Trust, Sutton, UK
Copyright
© Current Science Ltd 2000